Evaluate
Weigh the pros and cons of technologies, products and projects you are considering.
Virtualization backup tools: How the field stacks up
Virtualization backup tools have become a crucial investment for many IT shops. Choosing the right one requires an analysis of the features and cost.
The rise of server virtualization also paved the way for virtualization backup tools. Once physical server backup vendors realized that virtualization was here to stay, they made changes to their software to adapt to backing up virtual machines (VMs). Still, not all tools for backing up physical servers offer the same powerful VM backup features as virtualization backup tools do.
On the other hand, virtualization backup tools typically don't back up physical servers, so you'll need two tools if you can't virtualize all of your physical servers right now.
When selecting a virtualization backup tool, consider its history and source. Make sure it offers everything you need for a successful disaster recovery (DR) strategy.
The following are core features to look for in a virtualization backup tool:
virtual backup—physical backup or both;
image-based backup;
file-level restore;
instant restore;
deduplication and compression of backup data;
replication of backup data off-site for disaster recovery;
agent-based versus agentless backup; and
deployment—installed as a Windows app or prebuilt VM.
And finally, compare the cost of the backup tool with that of other tools because they will likely have different pricing models.
In addition to the potential value of virtualization backup tools, we'll consider some examples, assess their maturity and list their specifications.
Almost every server backup tool can back up VMs, but it's often done with agents inside each virtual machine. Using a traditional agent in each VM may allow administrators to restore files, but it won't give them any virtualization features.
Instead, opt for either virtualization-specific backup tools or physical server backup tools that have strong virtualization-specific features.
Backup tools use VMware Inc.'s vCenter application programming interface (API) to identify which VMs are on which ESX/ESXi host. This is critical because VMs will be moving around via vMotion, Distributed Resource Scheduler and VMware High Availability. In fact, VM disk files might even be moving from one storage area network (SAN) to another using storage vMotion.
As part of a DR strategy, the tools that back up a virtual infrastructure must take all of this into account. Besides using the vCenter API, virtualization-specific backup tools may also use the change block tracking feature of vSphere 4 and higher to perform faster. Opt for virtualization backup tools or physical server tools that have strong virtualization features.
Evaluating virtualization backup tools
The first of the three virtualization-specific backup tools we'll discuss is Acronis Backup & Recovery Virtual Edition. It is different because it backs up all virtualization platforms including vSphere, Hyper-V, XenServer, KVM and Parallels Virtuozzo. It is also different because organizations need to purchase just a single, onetime license, and then they can back up all of their VMs.
Acronis Backup & Recovery is agentless in vSphere and Hyper-V infrastructures, offers physical-to-virtual (P2V) and virtual-to-virtual (V2V) conversion and even backs up to tape. Acronis Inc. has optional deduplication but no replication. Acronis' "online backup" option allows admins to send backup data over the Internet for off-site storage.
EMC Avamar Backup & Dedupe wasn't designed specifically for virtual infrastructures. It backs up physical servers as well as virtual machines. While EMC Corp. may not have designed the product for virtualization, it has added features that allow Avamar to integrate with the virtual infrastructure through the vCenter API.
Avamar has remote site-replication abilities and can back up data to disk or tape—something that virtualization-specific backup tools won't do. It offers modules to back up applications, including Exchange, SharePoint and Oracle. On the downside, Avamar is one of the most complex—and expensive—backup tools in this guide.
The third virtualization-specific backup tool is PHD Virtual Backup (formerly esXpress) from PHD Virtual Technologies (see Figure 1). This was one of the first tools I ever used that actually deployed as a virtual appliance. Its model is to deploy a virtual backup appliance (VBA) on one or more ESX/ESXi hosts.
The administrative interface could be Web-based (going directly to that VBA), or you can use a local Windows console or even install a vSphere Client plug-in. That vSphere Client plug-in is unique. Neither Veeam Backup nor Quest vRanger has it. PHD Virtual has good insight into a virtualized infrastructure and data stores because it is actually a virtual machine. It has deduplication, is 100% virtualized and has file-level restore, change block tracking and application object recovery. PHD Virtual could be improved by adding integrated replication.
The second virtualization-specific backup application is Quest vRanger from Quest Software Inc. Originally called Vizioncore esxRanger, then called vRanger, this tool was one of the first VMware-specific backup tools. The product's latest release includes new features such as integration with Quest's vConverter product for backing up physical servers into virtual machine backups, instant file-level recovery, file cataloging and integration with Quest's vReplicator.
VRanger is sold in two editions: vRanger Standard Edition and vRanger Pro. The Pro edition has replication, file cataloging and LAN-free backup. The replication of backup images for off-site storage and disaster recovery is one of the most valuable features available within these backup products.
Depending on the size and design of a company, however, replication may not always be practical.
If you are comparing Veeam Backup & Replication and Quest vRanger, compare Veeam Backup & Replication with vRanger Pro—not with vRanger SE.
Pricing models for virtualization backup tools
The pricing models for virtualization backup tools vary, just as their methods for backing up systems and individual features are different. Choose the one that best covers the number of virtual machines affected.
Per VM = sold per virtual machine being backed up by the tool

Per CPU socket = sold per CPU socket in use across all virtualization hosts

One flat price = flat rate for the backup tool that can back up a limited number, or unlimited number, of VMs
More virtualization backup tools to consider
A new entry to the virtualization backup market is Thinware vBackup. While this small company still transfers virtual machines from the Virtual Machine FS using an older method (VMware Consolidated Backup), it does offer a complete file system backup tool that no one else offers. It has more advanced editions available as well and will soon be using the latest methods to transfer VMs (VMware's API for data protection/VADP). It will also have more advanced features, including incremental backup, file-level restore, and replication.
Thinware doesn't claim to compete with the large companies by offering the latest and most innovative features. Instead, vBackup's big selling point is that you can perform virtualization backups at the lowest possible cost, anywhere.
Veeam Backup & Replication is a Windows application from Veeam Software that installs either on a physical server or on a virtual machine. Standard features include image-based backup, file-level restore, deduplication and compression (see Figure 2).
Veeam Backup & Replication doesn't back up physical servers, but it can make a file copy of a network share as a backup if needed. Traditionally, the biggest differentiator between Veeam Backup & Replication and the competition has been replication of backup data off-site—for off-site backup storage and disaster recovery.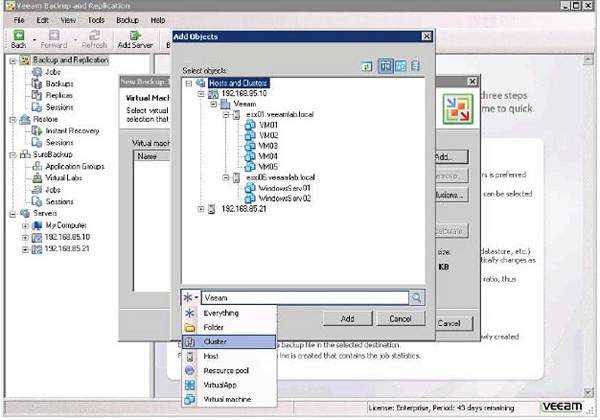 Figure 2: If a VM goes down, you can use Veeam Backup & Replication to restart it on any host in a matter of minutes.
The latest edition, Version 5, has an instant restore capability that allows a backup to be directly mounted from the backup repository without needing the VM to be copied to the production data store. Other unique features include universal application item recovery, virtual labs for testing, and change block tracking for rapid replication. In addition, the SureBackup feature provides for recovery verification of apps within a backup image.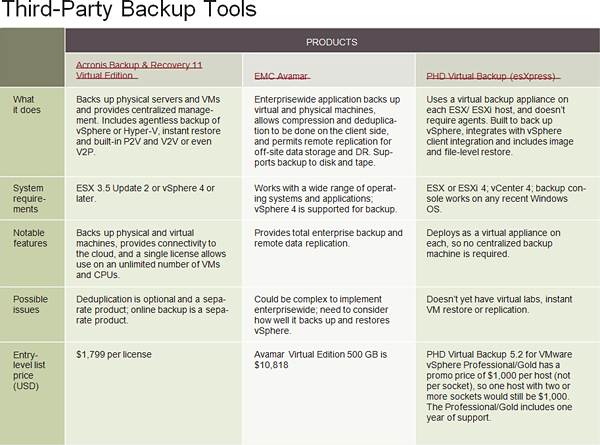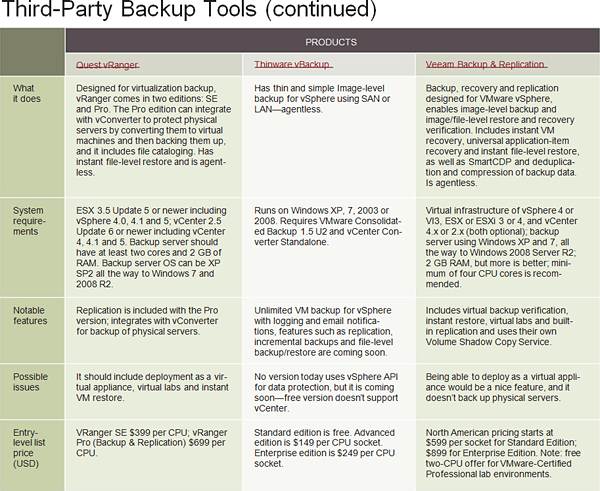 In addition, Veeam provides a free two-CPU license of Veeam Backup & Replication to any vExpert, VMware Certified Professional or VMware Certified Instructor for evaluation, demonstration and training.
The maturing virtualization backup tool market
Products that back up physical infrastructures have reached a high level of maturity. Younger virtualization backup tools are moving from just getting the job done to wowing admins with features they never dreamed possible. Virtualization has revived the backup software category with features that were never possible with traditional physical server backup: virtual labs, instant restore of VMs (mounted from the backup repository) and actual automated verification of VM backups.
Replicating changed blocks in a VM disk file is one of the most useful features of third-party backup and recovery tools. With replication, you don't have to create backup tapes or store those tapes off-site. Instead, replication just moves changed blocks across a WAN or Internet VPN tunnel to another company location or service provider. That takes care of a big DR strategy headache—the requirement to back up and restore company applications and data.
VM replication has a shorter recovery time than traditional tape backup ever could. Plus, virtual machines are ready to be powered on by a vSphere host the minute they are needed.
Remember to consider virtualization features, how to get data off-site, backup of physical servers, whether replication is included and the availability of advanced virtualization features when you look at third-party backup tools.
This article first appeared in the Virtualization Management Tools Buying Guide and was commissioned by the TechTarget special projects team.
Dig Deeper on Virtual machine monitoring, troubleshooting and alerting