Manage
Learn to apply best practices and optimize your operations.
What to expect from the RHEV 3.1 Web-based management interface
RHEV's Web-based management interface would never be described as intuitive -- until this latest version included with RHEV 3.1, that is.
Red Hat's latest enterprise virtualization platform, RHEV 3.1, comes equipped with numerous bells and whistles, including a new Web-based management interface. The vendor has successfully accomplished one of its design goals and made the Web interface available for all browsers. Of course, this isn't the only change you can expect.
Red Hat wanted to ensure that admins could manage RHEV 3.1 from any browser, not just Internet Explorer. Some core Red Hat customers found it unacceptable to only be able to administer RHEV from a Windows machine. Red Hat put significant effort into making the management interface available for other browsers, but I wanted to ensure that it still works on a Windows machine with Internet Explorer. After all, many people still run this combination as their default environment. The good news: The Web-based management interface does still work with Internet Explorer, even now that the .net back end has completely been rewritten to a JBoss back end.
A more user-friendly management interface
At first glance, the Web-based interface looks different from previous versions. Conveniently, RHEV-Manager is now available on the default Apache port, so you no longer need to remember nondefault ports. From the portal page, the administrator selects the Administrator Portal, which accesses the RHEV-Management page. As you can see in Figure 1, this page has been completely redesigned.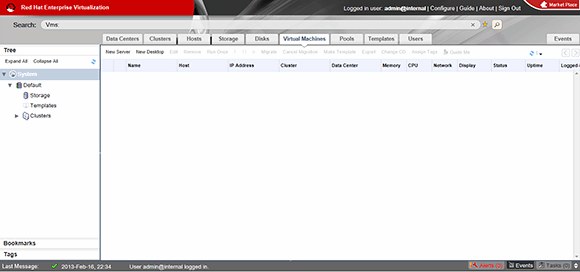 Figure 1. View of the default RHEV Administrator Management page.
Previous versions of RHEV could be managed relatively simply, unless you were new to the platform. In the new interface, Red Hat has clearly made an effort to make the RHEV 3.1 setup more intuitive. Ordered tabs feature the different setup steps in the order you must perform them. You first set up a data center, then add clusters, hosts and storage. You'll also find a Guide Me button on almost every page. Clicking Guide Me offers assistance if you are unsure what to choose.
Familiar features in RHEV 3.1
Many Web interface features have not changed in RHEV 3.1; they have simply become more easily accessible. For example, the RHEV Marketplace and the Configuration options are easily visible in the upper part of the screen.
Unfortunately, some confusing options have not changed either. After selecting an item, the interface still gives a split screen where the upper half shows generic options, and the lower half shows where the selected item must be configured further. This setup is often confusing for first-time users. If, for instance, you select data center, a storage option appears on the data center. But there is also a storage option on the upper menu bar. If you're unfamiliar with the interface, you can easily get lost with this two menu bar approach.
oVirt's role in RHEV 3.1
The oVirt open source project has helped Red Hat make the Web-based management interface available for multiple browsers. The vendor has been able to test the new interface and other changes in RHEV in oVirt, which is available for free on Fedora 17 and newer editions. Many bugs could be identified and eliminated on oVirt before the new interface was made available for RHEV 3.1.
More changes may be in store, but the new RHEV 3.1 Web interface is a big step forward. Not only does it work with multiple browsers, but it also features a new, user-friendly screen layout, designed to make it easier for administrators to configure the environment.
Dig Deeper on Open source virtualization