When you need more than bare bones KVM management tools
Built-in KVM management tools don't give you the advanced functionality of RHEV or oVirt, but sometimes a bare-bones approach is all you need.
KVM, or kernel-based virtual machine, virtualization is free and included in all Linux distributions, but its built-in management options are limited. Virtualization platforms, like Red Hat Enterprise Virtualization and oVirt offer more KVM management options, but they can be costly or difficult to set up. In this article you'll learn when it's worth turning to these open source virtualization platforms and when a bare-bones KVM virtualization deployment will do.
More on KVM and oVIRT
Easy, convenient virtual disk files
The future of Red Hat Enterprise Virtualization
All Linux distributions include some virtualization management tools, like the graphical Virtual Machine Manager and the command-line tool virsh. Most of these tools were developed to manage virtual machines (VMs) running on the local KVM host. Virtual Machine Manager is a bit more advanced, and it allows you to connect to the KVM virtualization stack on a remote host as well. But, even if you can use Virtual Machine Manager to connect to a remote host, there is still no easy way to monitor the availability of multiple hosts or move VMs from one host to another with built-in KVM management tools.
For added functionality, many people turn to two of the most popular KVM management platforms: Red Hat Enterprise Virtualization (RHEV) and oVirt. OVirt is a free open source project started by Red Hat, and is the foundation for Red Hat's commercial offering, RHEV. All oVirt features discussed in this article are also available on RHEV.
OVirt is more than just a graphical management shell on top of KVM. It integrates different hosts in one management domain so that they can be managed as one. It also offers some additional features, including the use of dedicated hypervisor hosts. These are hosts installed with a bare-bones operating system developed as a virtualization platform. Using hypervisor hosts makes your virtualization platform more efficient by avoiding the installation of unnecessary components.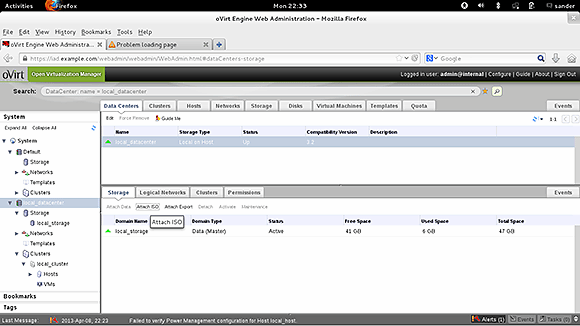 OVirt also includes tools that help you move VMs among hosts. This can be useful if, for instance, you need to bring down one of the hosts for maintenance, or you want to create a high availability environment that will restart stopped VMs. If you need these advanced features and the ability to manage VMs across multiple hosts, a platform like oVirt or Red Hat is your best option.
Although oVirt includes many useful management options, there are disadvantages. It is moderately difficult to set up, and it isn't yet available for all Linux distributions. If, however, you want to set up a virtualized environment based on KVM, it's the best free approach available.
If, on the other hand, you just need to work with a few VMs on one KVM host, there's no need to set up a complete environment based on oVirt. In this situation, Virtual Machine Manager and the command-line tool virsh provide the management functions you need for a few VMs in a standalone environment.
The bottom line is that if you need to set up a virtualized data center, you're better off using a management platform, like oVirt or RHEV. If you just need to run VMs on one server or personal computer, then a bare-bones KVM approach will get you up and running fast.
Dig Deeper on Open source virtualization