Evaluate
Weigh the pros and cons of technologies, products and projects you are considering.
How to choose the best hardware for virtualization
Introduction
There are several factors to consider when choosing virtualization hardware. Will you be an early adopter of emerging technology? Do you need the most up-to-date servers to meet your workload requirements? Are there certain features and functionalities that will ease resource management in your environment?
These are only a few of the questions you should ask yourself when reviewing hardware virtualization. There's a fine line between not having enough resources and spending too much on something you don't necessarily need.
After purchasing a hardware platform, you need to determine the best way to optimize it; otherwise, valuable processor, memory, networking and storage resources will go to waste. With so many options available to you when it comes to hardware specifications and features, it can be hard to know where to start. Luckily, this updated guide to choosing the best hardware for virtualization can help.
1

CPU and RAM

-
Processor and memory requirements
When choosing hardware for virtualization, first consider what you'll need in terms of computing and memory resources. One of the most important questions to ask is what type of workloads you plan on running in your virtual infrastructure. The answer will determine the amount of CPU and RAM you will need.
There have been several advancements in processor technology over the past few years, so thoroughly evaluate your options before implementing a specific hardware platform. Memory has evolved as well, offering more speed and performance than ever before. Employ different management techniques to make the most of these resources.
2

Networking

-
Network hardware options
In terms of making the most of your networking resources, selecting the best server hardware for virtualization is only the first step in the process. Of course, using different technologies can help you in those efforts depending on your performance needs, but certain features and techniques can also ease network management. Learn more about emerging technologies, like SNMP, iSCSI and NFS, as well as specific networking best practices with these tips.

Download this free guide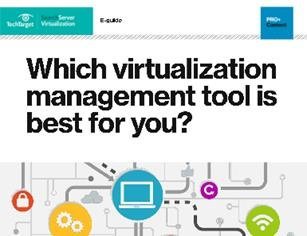 VMware vs. Microsoft vs. Citrix
Download now to compare the top ten virtualization management tool providers including VMware, Microsoft, and Citrix, and see what improvements your organization could make with a virtualization management tool.
3

Storage

-
Storage hardware trends
Perhaps one of the most difficult decisions admins have to make when purchasing virtualization server hardware is how they want to approach storage in their environments. Aside from increasingly popular technologies, like storage I/O control (SIOC) and hypervisor-aware storage, you have hyper-converged infrastructure systems to consider. Thoroughly evaluate the storage features different vendors offer and your overall server design before choosing a server for virtualization.
4

Key terms

-
Terms associated with hardware virtualization
An essential part of choosing the best hardware for virtualization is knowing the related terminology. Read on to familiarize yourself with the key terms.