News
Stay informed about the latest enterprise technology news and product updates.
The Value of the VCP (VMware Certified Professional)
The VMware Certified Professional exam isn't the easiest exam in the world, nor the hardest (many diverge on whether Red Hat, Citrix, or Cisco win that title for their premier certification levels), but it's rapidly becoming one of the most sought-after enterprise certifications available. Since I'm still prepping for the test, and haven't sat for it, I'm a little leery of making that statement, but I've sat through enough CBTs that are acclaimed for their similarity to the exam that I feel safe putting it out there, and I've taken the only class that VMware has geared towards the VCP exam. The question is why… Why is the VCP so valuable?
Because it's a hot technology in the truest sense of the word, and one that isn't likely to go away anytime soon. The story is slightly reminiscent of another darling of Wall Street, Citrix Systems, which appeared to fill in a void left by the need to remotely access applications and which has consistently improved its product lines and scope of business over the years. Interestingly enough, Citrix and VMware are about to go head to head in the market for virtualization customers following the CItrix / XenSource deal, and Citrix has always had a strong certification program (perhaps we'll see some new certs, maybe CCXA – Citrix Certified Xen Admin or maybe CCVA – Citrix Certified Virtualization Admin). VMware, like Citrix, has made its mark with a single product (ESX), and then branched out to add more and more to the product line, always ensuring that there was a clear line of sight back from all of the added products to their main line (aka their "Core Competency" for those paradigm-shifting process re-engineering, value-adding self-empowered framework info-architects out there). This focus will make VMware an adopted technology almost everywhere, and another indicator of VMware's "hotness" are their impressive number of customers. VMware claims 100% of the Fortune 100 and another 20,000 enterprise-level customers. That's an impressive stock of customers in a relatively short lifespan.
Look no further than the IPO for proof that VMware is hot:
What do these numbers mean when you put them together? People are using the product at all levels of business, and business is expanding into new market spaces, new market locations, and new customers. This means jobs are open for qualified staff, contracts are available for qualified consultants, and in both cases, money is there to be made. Like the MCSE when Windows NT4 debuted, the CNE when Novell 4 debuted, and all of the other business-transforming certifications, having the VCP is ticket to a higher salary. In fact, the VCP is one of the hottest salary items out there, judging from this comparison I made using the tools at indeed.com (in US dollars, covering the US market):
Looking at those numbers, I'm astonished… a single-test exam cert beats out all but one of the other infrastructure certs in that list, including the Microsoft Certified Systems Engineer (seven exams at minimum), the Red Hat Certified Engineer (three exams, one of which is an on-site, hands-on lab), and the CCEA (five exams, one of which is also a hands-on lab). This is the market in a nutshell – the growth of virtualization is fueling a need, one that exceeds the need for other certifications, and so demand is driving up the earnings potential of VCPs just as much as the expertise level of the cert, if not more. In the long run, it will fade back in with the pack, but by then VMware will have undoubtedly expanded their certification program to include the typical technician/sysadmin/architect tier that most certification tracks fit into. The long and short of why the VMware's certifications will remain higher than other certs is because all other non-hardware, IT-related products can run on top of VMware, inside guest machines. This in turn means that at the basic level, VMware will be more important than them all because it's the root of the tree. Trained, certified people will command bigger salaries because VMware's root-level position means it will also be the top of the food chain – hardware / virtualization / operating system / application.
This isn't just a US trend, there are numbers from many countries as well. I qualified the chart above by it's location because there's also this graph from itjobswatch.co.uk that I'd like to share: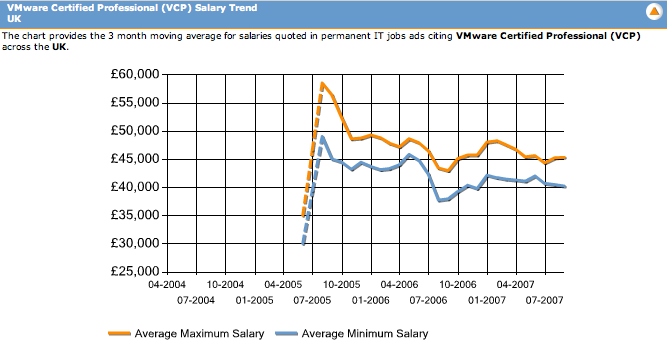 Want to travel the world? Get VMware certified and go to work for the right company!
The really great thing about the VCP is that it's cross-disciplinary – you have to have (or learn) some good all-around IT knowledge to pass the exam. Much like Citrix's exams, you need to know more than just the core product. For the Citrix CCA and up it's takes Windows, networking, and Citrix knowledge. For the VCP exam you need to know a little bit about operating system administration, hardware configuration, shared storage, and networking in order to pass, because each of these plays a role inside the Virtual Infrastructure platform. Personally, I can't wait to take the exam – it's not going to have one little bit of impact on my current position or any probably future positions (I'm at the top of the food chain in my day job), but I want it for the same reason I hold a CCA – at heart I'm a generalist who loves to know how things work (the official line is "so that I can understand their impact on the business and their relevance to meeting the shared goals of our company's mission", but I have to admit, I also enjoy the learning and the tinkering for their own sakes).
It's not just a certification, like the slew of them we can all put on out resumes to impress the next interviewer, it's a career-enhancing move. Does the certification make you any more of an expert than you may or may not be? That'd be debatable on a case-by-case, person-by-person basis, but it's definitely a mark that you know what's hot, and aren't "stale". The hotness-factor of the VCP is high, the demand is there in the market, and the value a VCP can add to your career makes it worth the time and effort to earn.